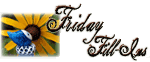 1. I can't believe I've got an inflamed eye.
2. I wish peace for everyone.
3. How can I make people aware that it's autism awareness month now?
4. Potatoes with lettuce and egg was the last thing I cooked.
5. Six of one family, when you describe my children.
6. Will I ever stop standing up against injustice?; nonono!
7. And as for the weekend, tonight I'm looking forward to finally getting my new shoes (it took them 2 weeks to find the right colour in the country), tomorrow my plans include laundry, getting the groceries and eating dinner my son will cook and Sunday, I want to sleep in!
Want to read more entries or participate yourself?
Click the logo.
Posted by Laane @ 1 April 2011
Tags : Friday Fill-ins